Welcome aboard! We are the Massachusetts Bay Council of the Navy League of the United States.
The Navy League of the United States was founded in 1902 with the encouragement of President Theodore Roosevelt. The Navy League is unique among military-oriented associations in that it is a civilian organization dedicated to the education of our citizens, including our elected officials, and the support of the men and women of the sea services and their families. Further information may be obtained by visiting the web site www.navyleague.org.
The Massachusetts Bay Council, as chartered by the Navy League of the U.S., is a non-profit, educational, 501.c.3 organization with roots back to 1955; With over 1100 members and not charging any local dues, we support our Sea Services in many ways. We make many awards to Navy, Coast Guard and Marine personnel, as well as NROTC and JROTC units in eastern Massachusetts, sponsor nine Sea and League Cadet units, sponsor a Maritime Symposium for college students, raise funds for the Marine Toys for Tots program, and much more.
We sponsored commissioning of USCGC JAMES (WMSL 754) in August 2015, USS SAMPSON (DDG 102) in 2007 and we sponsored commissioning of USS PREBLE (DDG 88) in Boston in 2002; and previously, USS RAMAGE, USS BUNKER HILL and USS SAMUEL ELIOT MORISON; as well as assisting the Coast Guard with several commissionings. We also promulgate a Directory of Sea Service Commands and Related Organizations each year, a much used information source.
NAVY LEAGUE DUES REDUCED. Regular Member $55; Even lower is an E-Membership (everything except printed SEAPOWER Magazine) for $25. Opportunity to recruit new members or give a gift. Applications are found at https://join.navyleague.org.
RECENT EVENTS: A tour of Drydock #1, in which USS Constitution is being overhauled was held on 14 May 2016. Several Saturday tours of the Coast Guard Port Operations Control Center were attended by small groups of members.
Tours of USS McFaul (DDG 74) on Saturday, 19 March 2016 were arranged by the council. About 30 Navy Leaguers, 130 Naval Sea Cadets from several units, Naval Academy candidates and parents, and other Navy-related organizations were able to visit the ship. A reception was held aboard that evening. On Sunday, ships crew marched in the Boston St. Patrick's Day Parade. President Tom Hennessey presented a plaque to the ship. When the ship arrived earlier in the week, Harold Learson was there to welcome her to Boston and gave the traditional book on USS Constitution.
PLANNED EVENTS: Boston Light 300th Anniversary event 14 September 2016 with the Coast Guard and National Park Service; a Navy Day event with speaker in October 2016; the Annual Meeting in October 2016; and the Toys for Tots Brunch on 4 December 2016. We are also considering a Military Ball in January 2017. Invitations will follow when details are firm. Please make sure that we have your e-mail address.
NAVY LEAGUE CONVENTION 2016: The Massachusetts Bay Council was named as a MERITORIOUS COUNCIL. This award is presented to councils that have demonstrated above average performance in community education, youth activities, public affairs, legislative activities, and recruiting and retention of members. Elected as National VP: Eleanor Samuels; as Region President: Shirley Hill (Newport County Council); and as National Directors from our council: Eleanor Samuels, Bill Kelley (Past National President), Tomi Olson and David Samuels.
AWARDS: MERITORIOUS COUNCIL AWARD FOR 2015 and 2016. For 2013 our newsletter, THE BOSUN'S PIPE, received the Outstanding Mackie Award for large councils. For 2012, the Council received an Honorable Mention for its activities in support of the Sea Services; and in 2011 this website won the 1st place Mackie Award for Large Councils, and our newsletter and THE BOSUN'S PIPE was Runner Up for the Mackie Award for newsletters.
Help our council. If you use Amazon, sign up for Amazon Smile and designate the Massachusetts Bay Council. No extra cost to you but we get .5% contribution from your purchases.
USS THOMAS HUDNER (DDG 116): As you should be aware, the USS THOMAS HUDNER is named for the Medal of Honor recipient and Member of our council. The ship, being built at Bath Iron Works, is scheduled to be commissioned in Boston in early 2018 and is sponsored by the Massachusetts Bay Council. Included are a few photos of construction courtesy of Bath Iron Works. You may also look at https://www.facebook.com/DDG116 and the website usshudnerddg116.org. On May 3, 2016 a campaign kickoff was held at the Boston Harbor Hotel. Committee Chairman Tom Hennessey and Virginia Hudner made introductions. Captain Hudner was represented by his son, Thomas Hudner III and other family members.​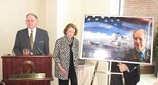 Tom Hennessey and Virginia Hudner Thomas Hudner III and Family Members
The Massachusetts Bay Council of the NLUS sometimes gets short notice of events and must rely on e-mail to send invitations to our members. Also, e-mail is a means to communicate, saving the costs of printing and postage, the money being better used for our awards to service men and women and for our youth programs. If you do not get e-mail invitations, it means we do not have your current e-mail address. Please send to Ivan Samuels at go2navy@verizon.net as soon as practicable.